What does it take to build great teams?
A key task of effective leadership is building great teams. What is a great team?
Great teams are:
Productive

Cohesive

United

Able to effectively communicate

Know how to resolve conflict

Understand their goals

Drive towards success
What leader doesn't want all of those characteristics in all of their team members?
A few months ago I wrote about great leaders building united teams:
Great leaders build united teams
I stand by this blog. It is true. Great leaders do know how to build united teams. That said, united teams are not always strong, effective teams. Yes, being united is part of being on a great team but being great takes more than being united. Building great teams doesn't just magically happen. Building a great team takes:
Patience

Time

Risk

Sometimes a do-over

Constant evolution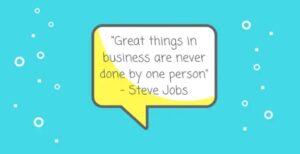 Teams that work great together are because of great leadership. Effective leaders understand how to:
Commit time to the hiring process

Never settle on a candidate

Train new hires

Provide teams with necessary tools

Set goals/expectations

Run interference when needed

Hold teams accountable

Effectively communicate

Address issues as they arise

Make changes if needed
Effective leaders understand that committing the time to build great teams will pay off in the long run. These leaders know that reward is worth the effort. There is often pain in building teams and great leaders can endure the pain while building their teams.
Commit the time to building a great team. You will not regret it.