Do your part as the interviewer!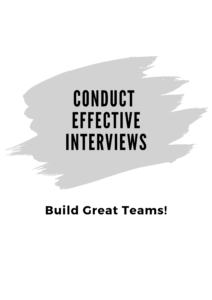 Interviewers: Do your part to effectively interview. Commit to the interview process up front and save yourself a potential headache later. Rushing the process and doing it half-way will only open the window for hiring mistakes. Hiring mistakes can be time consuming and costly. Additionally, If you don't care, why should your candidates care? Commit your time to the interview process and never settle on a candidate.
Why is it important for you to do your part? The list is long but starts with your investment in the organization and your team. People want to work for great leaders so show your candidates that you will be invested in them, that you will develop them, and that you care about the success of their career as much as you care about the success of the business.
As you are preparing for your interviews, consider these things:
Promote your organization

Promote your leadership style

Take good notes

Stay engaged in the conversation

Listen to understand your candidate
Promote your organization
When interviewing your candidates, they need to understand your company and why it is important to you. They should understand your vision and objectives to build a better company and build a better team. This will help you connect with them on organizational fit. You want to hire people that believe in you and your mission.
Promote yourself and your leadership style
Engage with your candidate over your leadership style. Talk to them about how they like to be led and how it fits with your style. Help them understand what you expect for the position and what it takes to succeed in the role.
Take good notes
It is beneficial to you to keep good notes for candidate comparison but you also owe it to your candidates to keep track of what they said and how they fit the open position and the organization. Good note taking will help you clearly identify which candidate said what. Don't rely on your memory. You have too much going on!
Stay engaged in the conversation
Don't get distracted by other business. You scheduled time for this interview, be part of it. Put your phone away and put your computer in sleep mode. Try to interview in a private or quiet space to avoid external distractions. If possible, sit at a conference table, not at your desk. You will have less opportunity for distraction if you are away from your desk. Be attentive.
Listen
Listen to your candidates, truly listen. Hear what they have to say so you can understand your candidate. Hear their story and what has brought them to you. This goes along with being distracted. Pay attention to what they are saying. If you find yourself having difficulty staying engaged, perhaps this candidate is not the right fit for your role. Navigate through your distractions and finish the interview.
If you know a candidate is not right for the role, it is perfectly acceptable to close out the interview a little quicker than normal. You do this by asking fewer questions. Do it respectfully, after a proper amount of time.
You are in search of the ideal candidate for your business. You want to commit time to the interview process and never settle on a less-than-ideal candidate. The goal is to build a great team.
Building great teams takes time and commitment. If you rush the process or if you are not invested in the interviews, your candidates will sense your disengagement. Make sure you don't lose them before you have a chance to understand them.
Learn how to effectively interview so you can build great teams to strengthen your business.
If you are interested in learning effective interviewing, let me know. I can help. You can reach me at Kristin@HRCreativeConsulting.com or you can check out my book: NoMoreHiringRegrets available on Amazon.
Thanks for reading!