Creating balance in your life. What does that mean?
We talk often about things like:
Find balance

Live in the moment

Tomorrow is not promised

Be present
What does that mean in life and at work? Well, let's first start with yes, do all of those things in every moment possible. But in reality, how many of you do? I can certainly say that I could and should do better. 
Jana Kingsford says: Balance is not something you find, it's something you create. I agree. How do you create balance? Creating balance between work and life can be challenging. The more stressful and demanding your job, the more difficult balance becomes. Work. Family. Home. Fun. Health, to name only a few. Ugh…it is exhausting trying to figure out how to get everything into your life.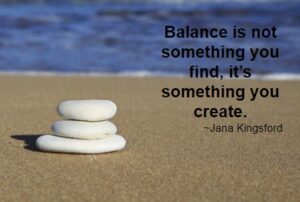 Some of the benefits of a healthy work/life balance are:
Increased focus

Increased productivity

Better health and well-being both physical and mental

Less stress
Live in the moment. Be present. Tomorrow is not promised. All of those things require balance first. How do you get there?
First – start with understanding your priorities. What is most important to you. Create a list. Write it down if necessary. If you do not know what is important, how can you possibly make time for it?
Next, follow some of these quick tips to regain your time.
Find time for you. Alone time to think, read, write.

Disconnect. PUT YOUR PHONE DOWN! Walk away from your tablet. Turn off your computer. 

Stop wasting time on non-valued tasks. If it doesn't bring value, why do it? Ask yourself if what you are doing brings any value to your life.

Avoid toxic people, situations and locations. Toxicity will suck your soul if you don't get away from it.

Learn to laugh. Laugh at yourself. Laugh at life. Find a way to enjoy the things that matter most. 

Take care of you. Exercise. Eat right. Get a massage. Do something for you.

Get a good night of rest.

Be present in your relationships with your family, friends and co-workers. Focus on them and the conversation. Again, put your phone down. 

Get out of the house and the office. Take a trip. Go to the park. Grab a weekend away.

Learn to embrace change. It is going to happen.

Take it all in: sunshine, rain, water, snow, ice, leaves, all of it. It is beautiful if you simply take a minute to take it all in. 
Remember: Work is your job. Not your life. Your employer will move on with or without you. Put your energy towards the things that really matter. 
This is your life. You only get one shot at it. Make it count!